"Everyone wants to be Cary Grant. Even I want to be Cary Grant."
Cary Grant

Since today is Cary Grant's birthday and I'm a fan of his, I thought I would pop in for a last minute blog using a few of his quotes.

Grant is an iconic romance hero. He's gorgeous, suave, confident, funny, and has a sexiness about his voice and his aura that makes him hard to resist. As Savanna mentioned below, his was the era where men were supposed to be gentlemen, and women ladies. Although we all know behind the scenes, back in real life, there were plenty of problems in relationships and most were nothing like what was presented on the screen, the possibility of it being that way had a huge pull. How many of us wouldn't want the kind of passion shown in those black and whites? It was a gentle passion, but deep, and respectful. I'm sure women of the time went home from those movies with a sigh as they dealt with husbands who were a tad less romantic than Cary Grant, et al. We still do. We still pick out particular actors who we'd like to take home and have in real life, although if we're honest with ourselves, it's the character played and not the actor in all his true glory (and very likely his messiness and tempers and whining when sick) we want.

Characters. The true romance hero. We write them the way we want them. And romance fiction gets guffawed for not being real, for being too mushy.

Heck, even Cary Grant knew his stage persona was just that. Still, how often can you make believe you're something without at least part of it rubbing off?

"I pretended to be somebody I wanted to be until finally I became that person. Or he became me."
Cary Grant
My guess is that if all those guffawing romance fiction would sink into it for a while, some of it would rub off. Better yet, get the men in your lives to read it and tell them "this" is what I see as real romance! Study it!

Nothing ever changed by rolling your eyes and scoffing at it. Maybe we should stop and examine just what it is that truly needs to change: dreams of the way it could be if we worked at it, or thoughts that 'it doesn't happen so why bother'?' that keep us in the same ruts we've been in for years?

True, I'm a romantic at heart. I believe we can make ourselves more into what we want to be if we're willing to put out the effort it takes. And I believe I'd much rather do that than sit in a rut and wallow.

"I think that making love is the best form of exercise."
Cary Grant

Note the way he said it: making love, not sex – and there is a difference. At least there should be.
Long live actual romance and those perpetuating the idea that it CAN be real.
Happy Birthday, Mr. Grant.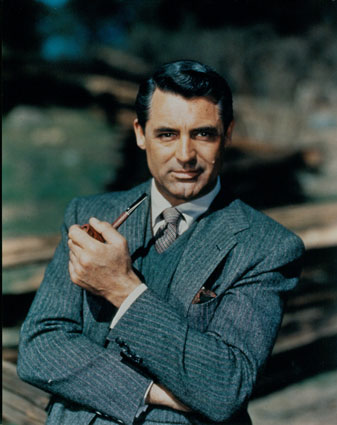 http://www.classichollywoodbios.com/carygrant.htm
quotes from
www.brainyquote.com
LK Hunsaker
~ Literary Romance with an Artsy Twist ~
http://www.lkhunsaker.com
http://lkhunsaker.blogspot.com